Caipirinha's LEE MARVIN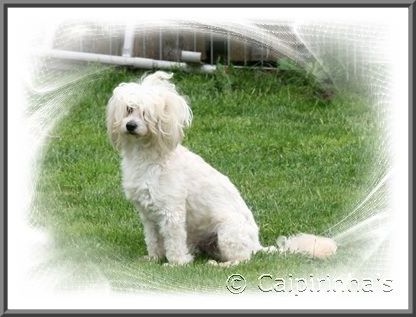 Those we love don't go away,
they walk beside us every day.
Unseen, unheard, but always near,
still loved, still missed and very dear .
---
born January 10, 2009 - December 4, 2016
Sire: Multi-Champ. ONE TO REMEMBER de Gabritho
Dam: Multi-Champ. Family Song's ULA (Import from Slovakia, brown-creme-white, hairless* prcd-PRA OptiGen® normal/clear, PLL carrier, ECVO eye examination clear, Patella negative * full breeding confirmation Slovakia & Austria * Special Selection for breeding use in Austria * Veteran Champion Hungary 2016 * Croatian Champion 2010 * International Champion (FCI) 2009 * Slovakian Grand Champion 2008 * Champion Slovakia 2007 * Placed Third Best Chinese Crested Female Slovakia 2007 Club)
Marvin was the first born of our L litter, the first Chinese Crested litter of our kennel. He stayed with us as the interest for powderpuff dogs at that time was not too big. At the age of two and a half years we had him neutered to prevent an accidential litter with one of the breeding females.
Marvin was always a friendly, bright and funny boy who got along great with all in th pack, even with the most dominant males. When one of the girls was in season he was the best companion when they had to be separated from the intact males.
Never ever we would have thought that this sweet fur ball would leave us at such a young age, that within a couple of days he would say good bye to us forever at the age of not fully 8 years. With Marvin the first dog of our Chinese Crested offspring went over the Rainbow Bridge. Again another piece of ourselves left, again a hole which can never be closed remains in our hearts. Like all others also Marvin will be unforgotten and missed.