FRIZZANTE FURIOSO GRIS de la Maison du Garde-Barrière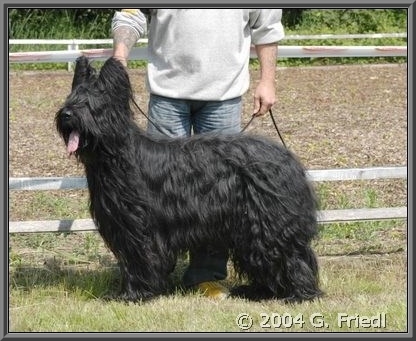 If tears could build a stairway
and memories a lane,
I'd walk right up to heaven
and bring you home again.
---
HD 0/0, CSNB clear (by parentage) * BGH-A * full breeding confirmation
born Dec. 24, 2000 - Jan. 6, 2014, 1:15 p.m.
Sire: Ch. Sél. NESCAFE des Pierrailles (France * grey, born black * HD clear, CSNB clear * Champion Germany (VDH), Selected France and Italy)
Dam: Sél. ÖJch. LOULOU dite YAZOO des Cèdres de la Montagne Noire, CGC (Import from France * black * HD 1/0 * CSNB clear * Austrian Junior Champion, Pre-Selected USA, Selected Slovakia, USA and Italy, breeding confirmation France, Austria, Slovakia, USA and Italy * Winners Bitch USA 2000)
Frizzy was the first born of our F litter. He and his sister Femme Fatale had already at their birth a lighter color than the other ones, so we assumed that he would be grey which is why on the one hand we decided already shortly after birth that we would eventually keep him, and on the other hand that he would have the addition "gris" being part of his name. Frizzy always remained lighter than the other ones, but he was black ardoise and (unfortunately) not grey. After we have clipped his coat completely at the age of 8 years he looked like our grey girl Oh-Lala, his hair completely grey.
The deciding factor that we kept him was certainly, that after a surgery at the age of four months we could not be sure that he would not have problems in the future: while playing with both his brothers Ferre and Fendi he swallowed three stones, which unfortunately did not come out naturally, so his stomach had to be opened. Luckily Frizzy had no negative aftereffects because of this operation through all his life.
Frizzy was a very funny, vivacious, social, proud and cuddly boy. There were never problems between him and any other stud here in the house: with the older ones he always accepted their status in the pack, the ones of the tiny breeds were his friends and he did not see any concurrence with them. He was a patient and great friend for all the litters born here, and he was extremely charming with the puppies of our Yorkie girl Gizmo.
Frizzy has been shown several times and got excellent results. But as he did not like to travel with the car, we stopped showing him. Since that time, he was kept with his hair cut a bit shorter in summertime, as he felt more comfortable this way, and since 2008 he was completely clipped.
Once Frizzy was used for breeding: he mated our Oh-Lala but unfortunately she had a miscarriage and our dream to have a Yazoo grandchild out of a very interesting breeding was gone with the wind. Frizzy's sperms were tested and they are fine, so it was not his fault. We had some other inquiries for him to be used as a stud, but we declined, as on the one hand we prefer line breeding with our Briards, on the second hand we would for sure never use a dog out of a grey line for matings with a fawn and on the third hand, we prefer quality but not quantity.
On January 6, 2014, we had to say "farewell" to Frizzy at the age of 13 years and 14 days. After he had gone through a major surgery of stomach and intestinal and of May 2013 (he had eaten a stuffed animal) and had recovered perfectly within 10 days, arthrosis bothered him since autumn 2013, which turned to get very bad in the right ellbow, so that we had to decide without quality of his life we have to open our arms and let him go. With this farewell the "Book Yazoo" is closed forever. We thank Frizzy for his unconditional love which he gave us during all his life. And we thank him so much that he had always been - also to the smallest ones - a loving friend and companion.
With Frizzy the very last direct offspring of Yazoo went over the Rainbow Bridge. He will, like all the ones who ever left us, be never forgotten and will remain living in our hearts, even though with him another part of us is gone ......
---
Frizzy's special success:
04/04/2005 - Frizzy passes the Breeding Confirmation (fully admitted)
05/29/2004 - Frizzy is - among 8 great dogs - Exc. 4 at the Austrian National Specialty
06/22/2003 - Frizzy is - among 7 much older dogs and being shown first time in open class - Exc. 3 at the Austrian National Specialty
10/15/2002 - Frizzy is HD 0/0