ARWA Betkin dvor

The more beautiful and full the memories,
the harder the parting.
But the gratitude converts the anguish
of memory into a silent joy.
One carries the past nice things
not like a thorn
but like a precious gift in oneself.
(Dietrich Bonhoeffer)
---
October 20, 1992 - August 27, 2003
Sire: Rec. Champ. SÁNDOR von Anitzberg (Austria * HD A/B, PRA clear, SNB clear * BgH 1+2 * Champion Slovakia 1997 * Koerung for lifetime - recommended for breeding)
Dam: ARWA Zevar CS (Import from Slovakia * HD A/A * SchH 1)
Arwa was an offspring out of Sándor's (Rec. Champ. Sándor von Anitzberg ) first breeding. She had the same parents as later our A litter, but she was born in Slovakia and came to us at the age of 9 weeks. At that time the German Shepherd Marko and her father where here. Arwa was a very funny dog and rather easy to handle. Her first year of life she joined work, which meant travelling to Vienna by car and underground each day.
When she was one and a half year old her mother ARWA Zevar came from Slovakia to us. She was planned to be put down from her owner as she had no success with Briard breeding. Therewith, the pack grew to 4 dogs.
Arwa was entered to several shows from puppy on and had excellent results whenever she was shown. She loved to work obedience and defense. Unfortunately we could not make the SchH I because tracking was not the kind of working she preferred.
On October 4, 1997, Arwa had her one and only litter for our kennel, the B litter de la Maison du Garde-Barrière after Dartagnan des Monts d'en Crauzille (France * blue * HD A/A * Selected France, recommended, Elite A). There was only one puppy - the female Batida de Coco, and the vet spayed Arwa to "simplify matters" during the Cesarean (this was easier for her than take the trouble of a good Cesarean). Despite the long travel to the stud, despite paying the full mating fee and despite the Cesarean, this "litter" was a gain for us: Batida was the first grey born black Briard out of Austrian Briard breeding.
In December 1997/January 1998 Arwa spent a three weeks holiday together with her daughter Batida and their owners in the mountains. When she came back home she was not longer the one she had been before - she was silent, reserved and sad after having spent a wonderful time during those 3 weeks with attention for 24 hours a day, and she had been the alpha dog there, ot only one besides several in the pack at the time being. Batida's owners phoned us every day and asked if the could have Arwa, but we first denied. After Arwa's behavior did not change during the next five days, we decided different. It was a hard decision for us, to imagine that we better let her live with her daughter, but we believe it was the right decision and the best we could do for a wonderful Briard girl, having brought lots of fun and luck to our home for more than 5 years. Knowing that she would be cared about perfectly and that we can see her and her daughter Batida at any time, made this step a little bit easier.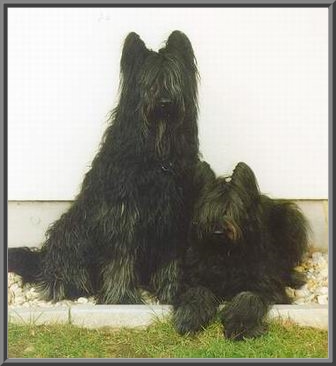 Sándor & Arwa on the day she left us
Arwa DID have a wonderful life in her new loving home for more than 5 years. She loved life and was a funny and happy dog till her sudden unexpected death. Thank goodness she did not have to suffer - she went to the Rainbow Bridge nearly as fast as her dad Sándor. Now they are together again and can toll around and about till we meet again.
Our thoughts are with you, dear Arwa, and of course with Sylvia and Rudi. You still have your place in ouer hearts - although you chose to live somewhere else.
THANKS for your daughter Batida - you and Sándor continue to live in her.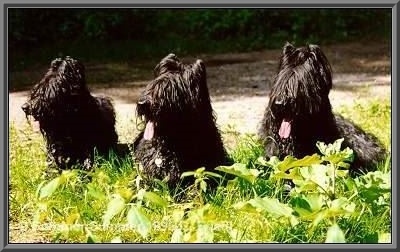 three generations: Batida, Mom Arwa & Grandpa Sándor
---
Arwa's special success:
January 1998 - Arwa decides for herself to move to her daughter Batida, and is chief there
On October 4, 1997, Arwa has after Rec. DARTAGNAN des Monts d'en Crauzille a grey born black girl, the B litter of our kennel de la Maison du Garde-Barrière
1994 - Arwa is HD clear