I'll be missing you by Puff Daddy & Faith Evans
Sél. JCh. LOULOU des Cèdres de la Montagne Noire, CGC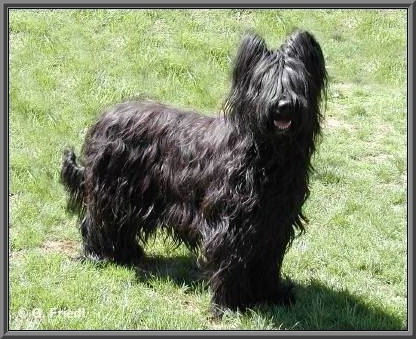 For the World you were just someone,
for me YOU were the World ......
---
Austrian Junior Champion, Selected Slovakia, Pre-Selected USA, Selected USA and Italy * Winners Bitch America 2000
HD 0/1, CSNB clear * full breeding confirmation in France, Austria, Slovakia, USA and Italy
August 7, 1995 - August 23, 2005 (Import from France)
Sire: Sél. Champ. PURSAN du Clos des Cèdres (Champion France 1996, Selected France 1996, Etalon d'Elite)
Dam: Champ. MAGALIE du Clos des Cèdres (Champion Luxemburg)
Yazoo was imported to Austria on October 2, 1995. She descended from a very well-known and old French line, and she was at that time one of the last grandchildren of worldwide famous Rubis. Already at the age of 7 months Yazoo was in the show ring in foreign countries. At her very first show (Munich 2006) the judge added the comment "an enrichment for the breed" to her judgement paper. Our trips to shows were to Belgium, France, Germany, Slovakia, Canada, USA and Italy. In an interval of only 29 days we got the "Austrian Junior Champion" with her. Until 2005 - apart from the breaks when she had puppies - this girl was shown by us. Only one single time in all her show career as a grown up Yazoo came out of the ring with the bad and absolutely not justifiable result "very good", at all the other shows she was always in the front status, was placed or Winner and Best of Breed and also Best in Show.
In summer 1997 we went to France and Yazoo passed the French breeding confirmation with excellent. At the show which took place at the same time with an selection of the most excellent dogs of the region, she won her class at the age of nearly two years and turned to be second best Briard of the show. In May 2000 she passed the Slovakian breeding confirmation with excellent and was selected. In July 2000 she was placed among big concurrence fifth best bitch of Europe in open class at the European Briard Championship. In August 2000 she passed the CGC in America (only 5 days after her horror trip), was pre-selected on the same day, selected on the next day, won her class at the National Specialty of BCA (among 19 bitches) and went Winners Bitch 2000 of America. At the same time she passed the American breeding confirmation. After a one year's break Yazoo was selected in Italy in October 2001 and was also admitted the full breeding confirmation in Italy. She was only missing one more Winner in veteran class and would have been Austrian Veteran Champion - she was already entered to the show, but died one month before.
Yazoo was her life long a funny, lively, self-confident, self-assured, vivacious, impetuous and bursting with energy dog. After her horror trip to Canada she even placed more confidence in me - although she went through real bad experience that time - than before. When I was off with another dog and she had to stay at home by way of exception, she insisted every evening to get up on my bed to spend the night there, instead of being together with the other ones - as long until I was back home.
Already on the day of her arrival Yazoo showed us that she was completely different than the other Briards here in the house. Our so far methods for socialization and education had to be changed completely, as with the in those days traditional way there was no getting at her. Not that she was a problem dog - no, but she called anything into question what she was asked for or what she was demanded.
Yazoo was an extremely social dog, she adopted any new puppy - being a Briard or of another breed, and she play with anyone who was around her. Had she enough or if the other ones overshot the mark, it was enough that she was only looking at them ...... in spite of her unbounded good-naturedness she had towards other dogs a charisma which made all know immediately that she was the chief and would at this point by no way tolerate "no buts", that she was the uncrowned queen (as we liked to say).
We had three litters with Yazoo. Most of her puppies were exported to foreign countries, also to oversea. It was HER children who made this kennel well-known worldwide and it's them to whom we owe our breeding success.
This wonderful girl was something unique; we know way too good that we will never again in our lives will have a dog like she was. Such a dog - if at all - one only has once in a life. Yazoo is today still being missed as if she had just gone ..... the pain about her loss is not even a bit smaller than in the beginning. We miss all the ones who have already gone over the Rainbow Bridge, each of them had something special which no other had, but Yazoo was just YAZOO.
---
05/07/2005 - Yazoo is Veteran Winner at the Austrian National Specialty
06/03/2004 - Yazoo survives a major emergency surgery caused by four infections and is back home only 24 hours afte the surgery
04/04/2004 - Yazoo is Veteran Winner at the Internation Show in Wieselburg/A
12/24/2000 - Yazoo whelps the F litter for our kennel (de la Maison du Garde-Barrière)
08/20/2000 - Yazoo is Best Female, BOB, Group 2nd at the Sanction Match in Ballantrae/ON/CAN (Photo - Prize)
08/12/2000 - Yazoo is Brood Bitch 2nd at the BCA National Specialty in America (among 16 Brood Bitches - Photo)
08/11/2000 - Yazoo is selected in the USA (Certificate - Photo - Group Photo)
08/10/2000 - Yazoo is pre-selected in the USA (Photo)
08/10/2000 - Yazoo passes the CGC (Certificate - Photo)
08/05/2000 - Yazoo survives the Horror Trip to Canada (August 4/5 flying from Vienna to Toronto)
07/23/2000 - Yazoo is lined up fifth at the UEBB 2000 in open class (Photo)
05/28/2000 - Yazoo passes the Slovakian Bonitatia and is therewith admitted the full Slovakian Breeding Confirmation (Judgement - Photo)
05/27/2000 - Yazoo is Exc. 2 Res. CAC Reserve Winner at the Slovakian National Specialty
05/18/1999 - Yazoo whelps the E litter for our kennel (de la Maison du Garde-Barrière)
05/10/1999 - Yazoo is certified CSNB clear (Certificate)
03/03/1998 - Yazoo whelps the C litter for our kennel (de la Maison du Garde-Barrière)
10/18/1997 - Yazoo is Exc. 1 CACA Winners BOB BIS at the National Specialty of the Austrian Kennel Club (Photo)
05/18/1997 - Yazoo is Exc. 1 Winner and 2nd Best Briard at the Special Show in Castres/France (Photo)
05/18/1997 - Yazoo passes the French Confirmation and is therewith admitted the full French Breeding Confirmation (Certificate)
11/03/1996 - Yazoo is Austrian Junior Champion (Diploma)
Yazoo's Homepage - her obituary, her story, her children, photo galleries etc.