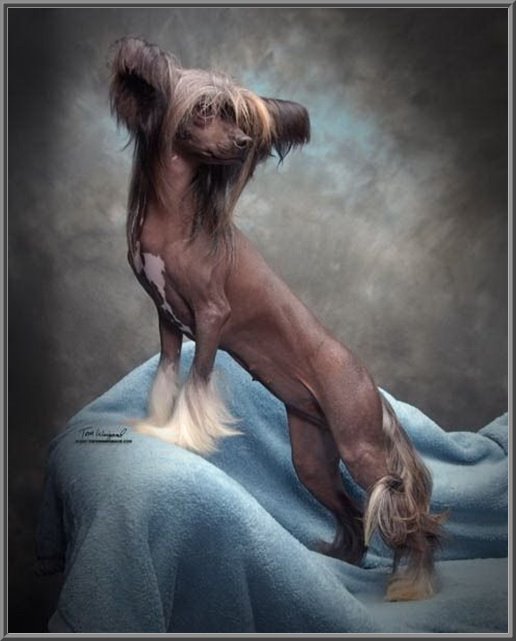 When I close my eyes I see you,
when I open my eyes I miss you.
Champion USA & International
prcd-PRA normal/clear, PLL normal/clear, CERF normal/clear, Patella negative * full breeding confirmation * out of breeding because of age (neutered July 2013)
June 7, 2006 - September 9, 2022
Sire: Ch. Blanchos ALONG CAME A SPIDER (Champion USA; International)
Dam: Ch. Hairicane MAGIC DARETOBEBARE (Champion USA)
---
Sterling's special success:
02/08/2010 - Sterling has her only litter for our kennel, the O litter (2 males hl, 1 male pp, 2 females hl, 2 females pp)
02/11/2010 - Sterling is clear of any eye disease (repeated eye check CERF certificate)
12/23/2009 - Sterling is PLL normal/clear (OFA certificate)
02/26/2009 - Sterling is clear of any eye disease (repeated eye check CERF certificate)
04/18/2008 - Sterling is prcd-PRA normal/clear (DNA profile)
02/28/2008 - Sterling is International Champion (UKC)
01/24/2008 - Sterling is Patella negative (Result certificate)
06/30/2007 - Sterling is Champion of America - Diploma
Sterling came to me in April 2010 at the age of almost four. Upon her arrival here in the house, the joy was first of all enormous when she joined Steel (Champ. Silver Bluff encountered STEEL KING LEGACY, AOM), with whom she had lived in the USA and who had come here half a year before her. I will never forget this picture, and I am sure that I have made getting used to it infinitely easier.
Sterling was an extremely friendly, accessible, cheerful and healthy girl throughout her life. There were never any problems in the pack, she was always uncomplicated with all the others. On February 11, 2012, she whelped the Caipirinha's O litter after my wonderful, unique male Keanu (CIB Multi-Champ. Whisperingln 'THE DEVILS ADVOCATE), who had come to me together with her. She was a great mother.
As healthy as she has been for many years, I was hit hard by the diagnosis of renal insufficiency in October 2021. So there was only diet food for her, which she was able to cope with very well. Despite her old age, she still had energy shoves several times a day, which made her romp around as if she was a young dog. But then suddenly and completely unexpectedly came the day when I had to make a crushing decision. Sterling was only eating less than the portions she needed, and three days later she totally stopped eating and was very depressed and without motivation. She seemed to give up on herself, which was confirmed by the vet I visited with her a day after she stopped eating. So I had to let go on September 9, 2022, and let her go forever at the age of 16 years, three months and two days. I never thought she'd dismantle that fast.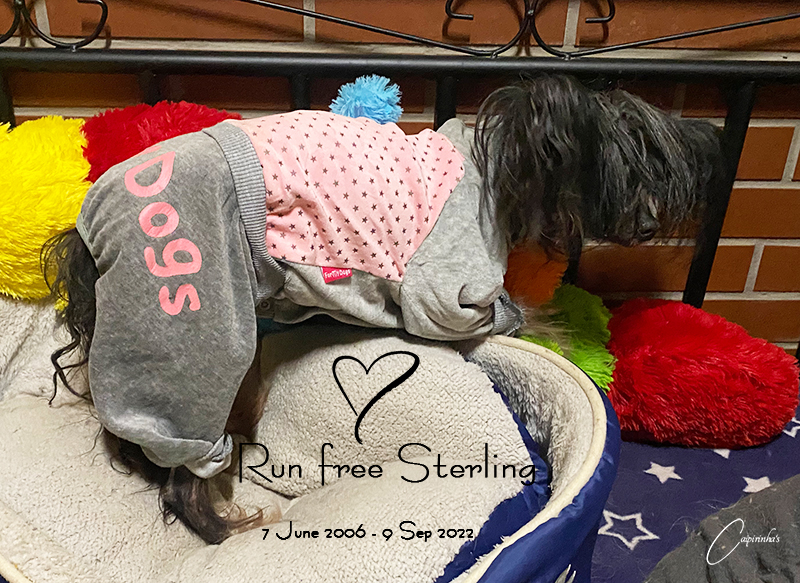 My only comfort is that she had a long and healthy life and that she is now reunited with her beloved Steel on the other side of the Rainbow Bridge - albeit later than when she came here. I am immensely grateful to her for the beautiful years we had together. She will be unforgettable for life.
On September 16, 2022, Sterling was cremated and the next day I was able to bring her urn home and put it next to Steel's.