Champ. Silver Bluff STEEL KING LEGACY SOM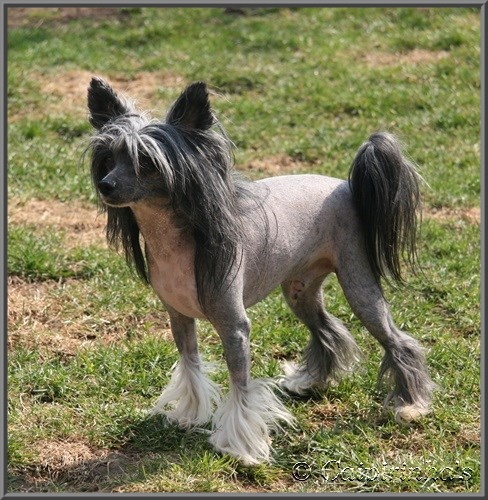 You left this world
but forgot to tell my
HEART how to live
without you
Sire of Merit 2010 * Champion USA
prcd-PRA normal/clear, PLL normal/clear, CERF normal/clear, Patella negative * full breeding confirmation in the USA and Austria

October 20, 2004 - July 9, 2018
Sire: Ch. STONEHILL COLD Kotickee STEEL (Champion USA)
Dam: Ch. Daisly Hill MOTH" (Champion USA)
---
special success:
02/02/2012 - offspring in Germany in the kennel von Shinbashi: 2/1 hairless puppies
12/31/2010 - Steel is awarded Sire Of Merit
01/22/2010 - Steel is PLL normal/clear (OFA certificate)
01/10/2011 - Steel's first European litter is born - Caipirinha's M litter
10/25/2009 - Exc. 2 Res. CACA at the Austrian Club Specialty
09/20/2009 - Exc. 1 CAC CACIB at the International Show in Osijek/HR
09/19/2009 - Exc. 2 Res. CAC at the National Show in Vukovar/HR

03/11/2009 - Steel is

clear of any eye disease

(repeated eye check -

CERF Certificate

)

04/18/2008 - Steel is prcd-PRA clear/normal (DNA Profile)
07/10/2007 - Steel is Patella negative (OFA Certificate)
01/22/2006 - Steel is Champion of America (Certificate)
---
Steel came here in August 2009 at the age of nearly 5 years. It was planned to have him only for one year for shows and a mating. When it came to arrange his return I was told that he would be neutered and placed. I did not want this sweet dog to go through something like this as I was already his fourth place. So Steel stayed here.
He did not trust anyone but me. From the first day we had a bond which is undescribable. And same counts for his unconditional love and gratitude which he gave me each and every day. As if he was feeling that the passing him around and about was finally over ......
Steel was only shown a few times in Europe, in the judges opions he was too small. One litter out of him was born here, 2 pp males, 2 thl females and 2 pp females. Both the males did not find adequate homes and stayed here.
At the age of nearly 10 years Steel had a hip luxation caused by an accident, he had a surgery done and even shortly afterwards nothing was seen and nobody would have believed that his femur head had been removed.
Steel was a great play mate for his kids, and he also got along with all in the pack excellently. A dream! When he turned older, in summer he loved to lay down somewhere in the shade and watch the other ones. In winter his favorite places were the couch or a big cosy dog bed. Of course he was in the bed during the nights.
Totally unexpected and without having ever been sick on July 9, 2018, Steel went over the Rainbow Bridge at the age of 13,5 years. It was a shock, even more since I had already lost three darlings since end of January. On July 19, he was cremated and on July 31, I brought his urn home where he is now among the others in the memorial corner in the bedroom to be always with me. When I am travelling a little pendant with his ashes is hanging on the rear view mirror in my car.
Losing him leaves a big hole in my heart, only the memories of nearly 9 wonderful years with this sweet boy let me go on.
Thank you Steel that you have given me so much love and your trust. You were an enrichment for my life and of course you have your own place in my heart and will forever be unforgotten ...... until we meet again one day.