UGO de la Morne Plaine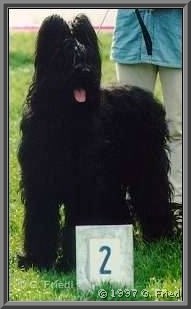 I ONLY WANTED YOU

They say memories are golden, well maybe that is true.
I never wanted memories, I only wanted you.

A million times I needed you, a million times I cried.
If love alone could have saved you, you never would have died.

In life I loved you dearly, in death I love you still.
In my heart you hold a place no one can ever fill.

If tears could build a stairway and heartache make a lane,
I'd walk the path to heaven and bring you back again.

Our family chain is broken, and nothing seems the same.
But as God calls us one by one, the chain will link again.
---
HD A/A, PRA clear, CSNB Carrier * full breeding confirmation in Austria * Sire of 45 children (22 boys/23 girls) in Finland, Sweden, Russia, Canada, USA, Australia and Austria out of five breedings * 18 grandchildren in the USA and 14 great-grandchildren in the USA
February 28, 1996 - March 15, 2005
Sire: Rec. DARTAGNAN des Monts d'en Crauzille, Elite A (France * born grey * Selected in France * recommandé)
Dam: Champ. NAPAL du Clos des Cèdres (Belgium * grey born black * Selected in France, Belgium, Germany * Champion France)
Samson was born in Belgium. We had wanted a grey Briard for quite a while and completely surprisingly heard from Yazoo's breeders, that there was a puppy in Belgium which should turn grey and which we could have. This boy would also be an interesting breeding partner for Yazoo, and so we did not think for long, although usually we don't take puppies before the youngest dog in the pack is grown up - Yazoo was only nine months old and gave us lots of things up to be solved. Still, we once broke our resolution and picked up Samson from Belgium at the age of nine weeks. With the color unfortunately it turned to be different: Samson was the only one from the litter who remained black ...... We did not care because Samson was a real great boy. Sometime we would get a grey Briard.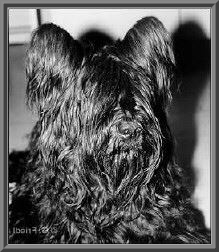 Samson and Yazoo were inseparable from beginning on and a real great team. And at the show trips with Yazoo now Samson was also joining. He has been presented at some shows in France, Slovakia and Austria and got excellent results. But because Samson was not the happiest dog with car driving and at the shows, we stopped and did the things Samson really liked: visiting the dog training place and having a bit obedience and defense training as well as from time to time tracking. And Samson loved to be harnessed into the Sacco-Cart with Yazoo and drive around in the environs.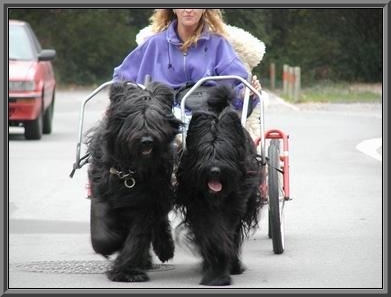 Samson & Yazoo
Samson enjoyed his life, had lots of fun with Yazoo and also with his kids, and he was an uncomplicated boy who not even a single time challenged the status of Sándor or tried to get into conflict with him. When Oh-Lala came to our home she, too, was a very much demanded playing companion. Both of them would have fitted perfectly for puppies: according to their lines and also to their character, and for sure we would have had grey puppies out of such a breeding, but we could not mate them as both of them were CSNB carriers.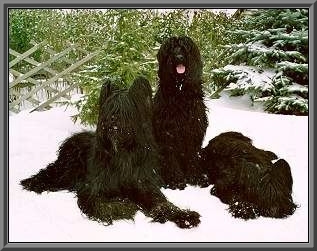 Samson, daughter Champagne (Australia) & Yazoo
On March 15, 2005 - only two weeks after his 9th birthday, much to young - Samson suddenly and completely unexptected started his trip over the Rainbow Bridge. Never in his life he had been sick ...... he was full of power and energy ...... and he loved life so very much ...... Early in the morning he was still tolling around in the garden, then he refused his food, lay down on his bed and did not get up again ...... on the way to the vet he died from a stroke.
He left emptiness, big sadness and lack of understanding about his early good-bye ...... he lead the way to his parents, friends and some of his children. Sometime the day will come on which we are all together united again ......
Samson, it has been indescribably nice, fulfilled, funny and unforgettable years with you. I thank you from the deepness of my heart that I could join you during all that time and that you have been a wonderful friend and protector to me. You certainly live in all your kids, but this is not really a consolation - YOU ARE MISSED SO INDESCRIBABLY .......... THANK YOU Samson, for all the joy and luck you brought to me. I will never forget you ...... your place is now deep inside my heart ......
Shortly before the first anniversary of his death we ordered a tribute for our unforgotten Samson, a portrait drawing after one of our favorite photos of him. This drawing is the absolute mirror of the model, a wonderful work of Michaela Liegle - Tierportrait.at)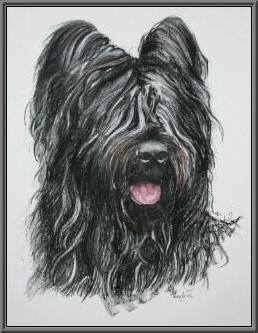 ---
Samson's special success:
On September 3, 2003, the black, from origin French, girl Noire Gentille Vodka de la Maison de Suzie whelped 10 puppies (7/3 - 0/1 stillborn, 1/0 died, 6/2 raised, all black) for the kennel du Val de la Rose (Austria)

On January 2, 2000, the grey born black girl, origin France, Magnifique des Monts d'en Crauzille whelped for the kennel de la Marquis de Sade (Austria) 11 puppies (5/6, raised 3/3 * some black and some grey born black, one male blue)

On May 18, 1999, our Yazoo whelped 8 puppies (4/4, all black) after Samson, our E litter (de la Maison du Garde-Barrière)

On March 14, 1998, the grey born black girl Amadea Crasna celebrita in Finland whelped 9 puppies (5/4 - 1/0 stillborn, 4/4 raised * some grey born black) in the kennel de la Petite Noblesse out of an artificial insemination

On March 3, 1998, our Yazoo whelped after Samson 6 puppies (3/3, all black), our C litter (de la Maison du Garde-Barrière)

January 1998 - Samson is PRA and SNB clear

12/22/1997 - Samson is HD clear